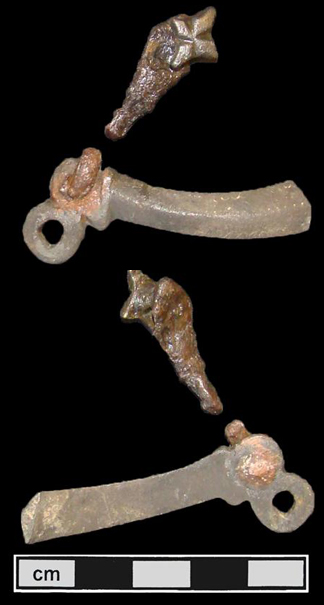 Courtesy Naval District Washington, Naval Air
Station Patuxent River, Webster Field Annex.
Site: 18ST233 Old Chapel Field
Context: Lot 357, Unit 47070, Plowzone
Site Date Range: c. 1637-1660
Metal: Copper alloy with an iron stud backing
Arm Length: Unmeasurable
Stud Length: 1" (25 mm)
Description:
Copper alloy spur with curved arms and
an offset figure-eight terminal. The hanging stud attachment is iron with a diamond-shaped copper alloy stud. The spur arm has a rounded crest or ridge along the outside, giving it a triangular cross-section. Although very worn and hard to see in the image, the arm is decorated along the edges with punched circles, and at the center with a zigzag pattern known as wriggle-work. It also has evidence of tinning.