Regional Maps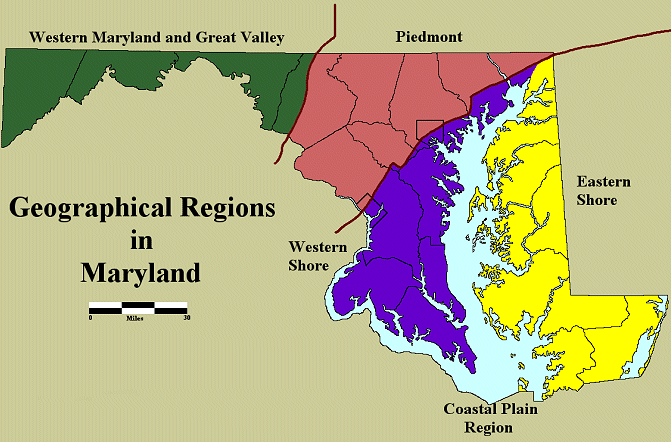 Though a small state, Maryland contains many of the physiographic regions that occur on the Eastern Coast of the United States. Our discussion of pottery wares is presented in relationship to the Regional Map that shows four main divisions. Nearly half of Maryland consists of the Atlantic Coastal Plain Province, an area of sedimentary deposits and large river drainages. The Chesapeake Bay divides the Coastal Plain in Maryland into two parts – the Eastern Shore and the Western Shore. The Eastern Shore, located between the Bay and the Atlantic Ocean, is an area of relatively flat topography while the Western Shore has a more rolling topography and steeply cut ravines.
The Piedmont region begins at the Fall Line, which runs diagonally southwest to northeast from Washington D.C., through Baltimore City and continuing on past the head of the Chesapeake Bay. The Fall Line was important in prehistoric times for fish resources and in historic times for water power. The Piedmont region covers the central portion of Maryland, with the Monocacy River drainage making up its western portion.
The remaining physiographic regions have been grouped into one area referred to as Western Maryland. This reflects the cultural history of the area rather than the physical environment since the Native groups that inhabited this region were more connected with each other than the rest of Maryland. Thus Western Maryland includes the Blue Ridge, Ridge and Valley, and the Appalachian Plateau. These are mountainous areas cut through by numerous freshwater streams and rivers. A small section of far Western Maryland is located on the western side of the Eastern Continental Divide. This area drains into the Mississippi River while the rest of Maryland drains east and south into the Chesapeake Bay and Atlantic Ocean.
For further details see Vokes and Edwards 1974.