Eastern Redcedar/Juniper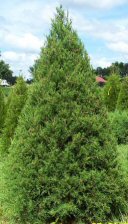 consists of 35 to 50 species distributed in North America (10), Africa (2), Asia (6) and Europe (6). All specieslook alike microscopically.
Eastern redcedar, native to the eastern half of the United States, has the widest distribution of any other conifer in the eastern United States. It is a pioneer species, being one of the first trees to invade disturbed areas. Although it grows very slowly, eastern redcedar can reach heights of 120 ft (36.58 m) and diameters of 4 ft (1.22 m).
The wood of Juniperus virginiana (Eastern redcedar) has a variegated appearance with bands of light colored or white sapwood alternating with the reddish brown heartwood, with a number of tight knots adding to the grain. It (like other softwoods) has a texture or feel that is smooth (as opposed to coarse), with a grain that is even and straight. It is neither a strong nor sturdy wood, but dries well without warping and is also easy to glue, nail and rive. The heartwood is extremely resistant to degradation in the ground over long periods of time, exposed to moisture, insects and fungi. Its uses include carvings, cedrol oil (oil of cedar), "cedar" chests, Christmas trees, linings of closets and drawers of case furniture, fence posts, floors, country style furniture, household items, pencils, pet (hamster) bedding, scientific instrument cases, small boats and wardrobes.Click here to view a chart of Key:Softwoods.
http://www.fpl.fs.fed.us/documnts/TechSheets/SoftwoodNA/pdf_files/junipervirgineng.pdf.
Characteristics found in the Eastern Redcedar (Juniperus virginiana):

Ray Tracheids Absent & Ray Parenchyma Nodular

Axial parenchyma with nodular end walls
Ray parenchyma with smooth to nodular end walls (many with 1-2 knobs/wall)
Indenture distinct
CHARCOAL SLIDES